Forms to Download and Print:
Applying
Timely submission of the application packet provides the best opportunity for acceptance of a qualified and worthy candidate.  It is recommended that the application packet be received by the Admission Committee in September or October of the applicant's junior year in college (one year preceding the desired program year) in order to be considered among the initial waves of acceptances.  Applications will continue to be received as long as positions remain available.  (Please note, all positions are usually filled prior to the New Year if not earlier.  If you are applying late, contact the Program Director to inquire if positions are still available.) 
The Medical Laboratory Science Program utilizes "rolling admissions" via which the Admissions Committee will send only one or two acceptance letters and wait to hear from the accepted applicant as to his/her desire to accept the offered position; this often may take weeks between acceptance letter cycles.  This rolling admissions process typically begins October 1st.  UPMC Chautauqua Medical Laboratory Science Program does not guarantee any positions to students or universities, all applications are reviewed without discrimination or preferential treatment.
Student Capacity
The UPMC Chautauqua Medical Laboratory Science Program has the capacity to accept up to twelve (12) students per year. Classes may not be filled to capacity; the number of students accepted each program year is quality determined and not mandated.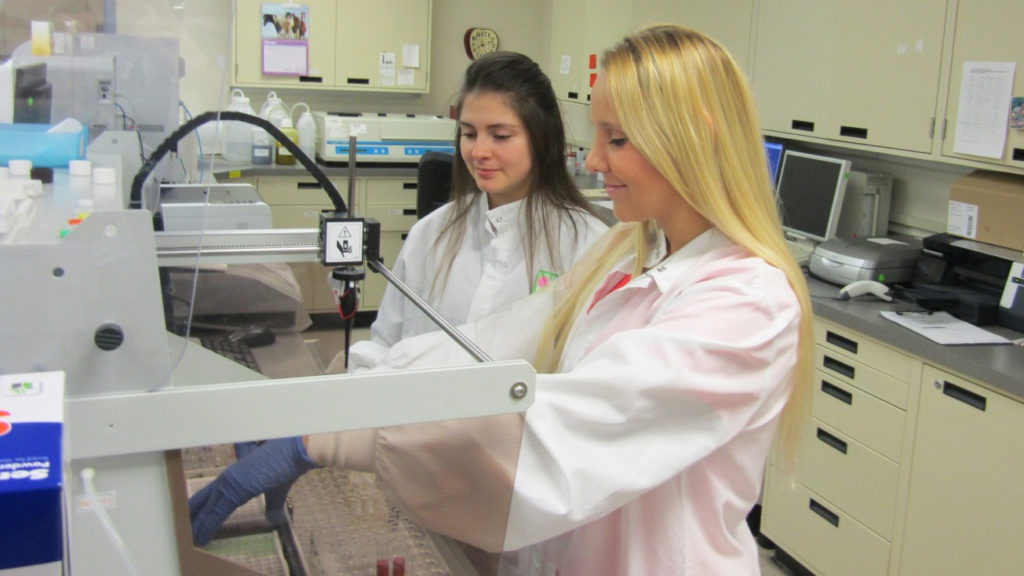 Application Packet
Qualified applicants (review Admission Requirements) may apply by mailing the completed application form, transcript evaluation form, and having all college transcripts sent to the UPMC Chautauqua Medical Laboratory Science Program. On the application, make sure the contact information for the individuals selected to be references is clearly and carefully written. References will be contacted by the program via e-mail to complete an electronic reference form on your behalf.
Applicant's "To Do" List:
**First — review the Admission Requirements AND complete the Transcript Evaluation Form to be assured you are eligible to apply to the UPMC Chautauqua Medical Laboratory Science Program.
Complete UPMC Chautauqua Medical Laboratory Science Program Application Form. Double-check the application for the legibility of the contact information for the three individuals selected to receive an electronic reference form.   
Mail the completed application AND transcript evaluation forms to the UPMC Chautauqua Medical Laboratory Science Program. 
Send academic transcript(s) for all college courses completed to date (even if not part of your current major/degree). Registrar-produced transcript(s) may be either electronic (PDF) or hardcopy sealed and mailed by officials. An unofficial transcript printed, signed and sealed by your academic advisor is also permitted.
Foreign students and those for which English is a second language must also submit additional information/paperwork in applicable:  (See Admission Requirements)
Notification
Once all items (application, transcript(s) and references) have been received by the UPMC Chautauqua Medical Laboratory Science Program, the Admissions Committee will review the complete application and all applicants will be notified of their application status and their eligibility to continue in the admission process.
Personal Interview
Those students who meet all of the admissions requirements will be notified to complete the application process with the required personal interview. The personal interview is utilized to assess each applicant in areas including professional goals, potential for success, judgment, integrity, study habits, interpersonal skills and communication skills required for the program year and for the profession.
Personal interviews are required and are held in person at the UPMC Chautauqua Medical Laboratory Science Program or virtually. Interviews are available on weekdays and are scheduled in advance. Travel to and from UPMC Chautauqua or any personal electronic equipment necessary for the applicant to interview is the responsibility of the student.
Students will be notified of their enrollment status (Accepted, Alternate, Not Accepted) via e-mail.  Due to the nature of "rolling admissions," the decisions of the Admission Committee are made in intervals.  A student who has completed the application and interview process and wishes to inquire about his/her acceptance status may do so by contacting the Program Director (see Contact us).
Students who complete the application process and are not initially accepted into the program may be notified they are on the Alternate list.  An alternate will be notified of an available position that may open when an accepted student declines his/her position.
A student who is not accepted is encouraged to take steps toward reapplying for the following program year, including increasing his/her academic standing, obtaining additional coursework, etc.
Decisions made by the Admissions Committee are final.
Accepting Your Position
Accepted students are required to submit a $280 deposit (subject to change) by the stated deadline (2-weeks from the date of acceptance) to hold their placement in the upcoming class.  Credit card payment via a secured on-line portal is preferred, although a check or money order is acceptable.
Students who do not reply to an offered position by the stated deadline will lose their position-status and may be placed on the Alternate list or may forfeit the position altogether. If needed, a student may request a deadline extension; all reasonable accommodations will be considered/granted.
(note: the deposit money paid to hold the internship position is utilized at the end of the program year to pay for the student's certification examination fees.)
Declining Your Position
If a student offered a position does not wish to accept, he/she must notify the Program Director by the stated deadline to open the position to another student candidate.
If a student, who has previously accepted an offered position does not intend to enter the program year, the student must notify the Program Director as soon as possible to allow a student waiting on the Alternate list to be placed. To have deposit money refunded, notification must be provided, in writing, to the Program Director by no later than January 1st of the internship year. Students accepted after January 1st will not be eligible for a deposit refund.
Maintaining Accepted Position
Student acceptance into the program is conditional until all college courses and prerequisites are complete. Students who do not maintain a minimum GPA of 2.50 or higher each semester and/or receive any grade lower than "C" may lose the clinical position in the UPMC Chautauqua Medical Laboratory Science Program. An accepted student must repeat any course(s) for which a grade less than a "C" is obtained (C– or below) in any course work taken during his/her junior year (for 3+1) or senior year (for 4+1) to retain his/her position in the internship year. All repeat course work must be completed prior to the start of the internship program. Contact the Program Director with any questions.
A college/university transcript must be sent to the Program Director at the completion of the spring semester and after any summer courses in advance of program year commencement.
Further Internship Information
Accepted students will receive 3-4 mailings over the spring and early summer months containing information related to their upcoming internship year. Mailings include topics such as the academic calendar, apartment rental information, part time employment opportunities, dress code, insurance information, textbook list, a Student Handbook, and more. Preparation homework, including study sheets, on-line tutorials, mini-tests and more are also required of students to begin the preparation for the program year. Students are encouraged to contact the Program Director whenever questions arise.